Shree Manglam Buildcon Private Limited Got A New Bridge Project In Rajasthan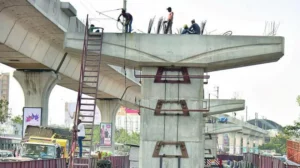 Shree Manglam Buildcon Pvt. Ltd. Got New Bridge Project In Rajasthan
PROJECT
Construction of High Level Bridge over the Parwati River at Kishanganj – Mangrol via Ramgarh road.  The project is By pwd.
State : Rajasthan
Latest: New Bridge Project In Rajasthan
Importance of the bridge  project 
Bridges serve as symbols of a country's infrastructure. Bridges are crucial for tying together people, goods, and transportation. Any country's economic development can be halted by the closure of a bridge. With the aid of bridges, tasks that are no longer possible can be easily done.
Bridges are used to transport goods and shipping materials from one location to another. After a bridge is constructed, the money earned goes into the development sector. More money is readily made back than was invested. It aids in a country's economy expanding faster than ever.
In this instance, maintenance personnel receive facilities. They can purchase items to put into local businesses.  Bridges create a fantastic connection between original goods and areas of good commerce.
Read More: Tansingh Chouhan got new road project in Rajasthan
About the project location 
10.4% of all of India's land area is in Rajasthan. It is the seventh most populous state in India and the largest by land. It shares a boundary with the Pakistani provinces of Sindh to the west and Punjab to the northwest along the Sutlej-Indus River basin.
It is located on India's northwesterly side, where it makes up the majority of the expansive and hostile Thar Desert (also known as the Great Indian Desert).
Punjab to the north, Haryana and Uttar Pradesh to the northeast, Madhya Pradesh to the southeast, and Gujarat to the southwest are the five Indian states that border it. Its geographic coordinates are 23.3 to 30.12 North latitude and 69.30 to 78.17 East longitude, with its southernmost tip being where the Tropic of Cancer passes through.
Shree Manglam Buildcon Private Limited Project Details
Project Details : Construction of High Level Bridge over the Parwati River at Kishanganj – Mangrol via Ramgarh road (MDR -124) in km 33/0 in district Baran//ACE PWD ZONE KOTA NITNO-06-2022-23
Department Name : PWD – CE AND AS||ACE – KOTA||SE-BARAN||EE-SHAHBAD/2022_CEPWD_287963_1
Value of Project : Rs. 539134168.6
Financial Bid Opening date : 30-Aug-2022 11:00 AM
Contractor Name :
SHREE MANGLAM BUILDCON (I) PRIVATE LIMITED
Subinfra care No