Shivam Condev Private Limited got a bridge project in Odisha Bhubneswar (North-east of India)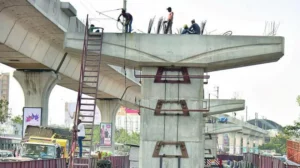 Shivam Condev Private Limited got a bridge project in Odisha Bhubneswar (North-east of India)
PROJECT
Reconstruction of HL major bridge across River Tel near Sonepur at Km 51.200
STATE :
ODISHA
THE PROJECT IS BY Ministry of Road Transport and Highways. EAST INDIA ZONE
ABOUT THE PROJECT 
The new, enlarged margins of the road as well as the new road's grade must be marked with stakes in the road's layout. When a road is enlarged, the nearby old road may occasionally be milled, repaved, or overlaid in order to match the new extended section's aesthetics and hide the obvious construction joint.
Latest:
New Bridge Project In Odisha
Additionally, repaving the nearby existing road makes it simpler to use the asphalt paver to create a fluent cross slope. On the existing road, approximately 12 inches from the edge of the pavement that runs parallel to the road, a sawcut may be necessary. This enables a clean edge and facilitates excavation.
LOCATION
In India, the eastern state of
Odisha
is located. By area, it is the eighth-largest state, and by population, it is the eleventh-largest. The number of scheduled tribes in the state is the third highest in all of India. It has borders with the states of Telangana and Andhra Pradesh to the south, Jharkhand and West Bengal to the north, and Chhattisgarh to the west.
Read More:
M/s KBM Construction got a new road project in Odisha
Odisha
's coastline stretches for 485 kilometres (301 mi) along the Indian Ocean's Bay of Bengal. There is a network of highways, railroads, airports, and seaports throughout
Odisha
. With the rest of India,
Bhubaneswar
is well linked through air, train, and road. Four more lanes are being added to some roadways.
Shivam Condev Private Limited
Project Details :
Reconstruction of HL major bridge across River Tel near Sonepur at Km 51.200 (Design Chainage 51.140 km) of NH-57 in the State of Odisha on EPC mode//09 CE NH of 2022-23
Department Name :
Ministry of Road Transport and Highways||P5 Delhi / LWE – MoRTH||RO Bhubaneswar – MoRTH||NH Odisha PWD-Kesinga – MoRTH/2022_MoRTH_693243_1
Value of Project :
Rs. 518800000
Financial Bid Opening Date :
26-Aug-2022 12:55 PM
Contractor Name :
Shivam Condev Private Limited
Subinfra care No
+91-7827501384